The CatCuddles' Promise
Here at Cat Cuddles, we hold ourselves to the promise of donating to aid hard-working, dedicated no-kill shelters around the United States.
As a site for cat lovers, we not only love providing owners with beneficial and informative articles on the care of their cats, we also love protecting the lives of cats that are currently endangered in overcrowded shelters.
We aim to empower and support no-kill shelters that are devoted entirely to preserving and safeguarding the livelihoods of these sweet felines.
Cat Cuddles is elated to say we have already saved 23 cats from homelessness and euthanasia.  Every small step counts in making a big difference.
The Sad Truth About Animal Shelters
Contrary to popular belief, most animal shelters are not places filled with happy dogs and cats awaiting adoption by a loving family.  Only about 55% of cats are saved in shelters, while the remaining 45% are euthanized.
Further statistics only make the truth about shelters more apparent:
Around 6 million animals (cats and dogs) are placed in shelters each year.
To make space for new animals, about 2 million adoptable, healthy cats and dogs are put down annually.
This stark reality is jarring to cat lovers like all of us at Cat Cuddles.  These facts alone are enough to keep us fighting hard for every shelter to adopt a no-kill policy.
Results of the No-Kill Movement
Since the commencement of the no-kill movement in 1994, animal lovers around the country have worked endlessly to advocate for strict adherence to no-kill policies in animal shelters.
As a result of this work and advocacy:
Only about 2 to 3 million animals are euthanized every year in comparison to the staggering 20 million that were said to have been annually killed before the no-kill movement began.
Over 10,000 groups have been established that are dedicated to rescuing and providing sanctuaries for animals that would normally be in shelters.
Shelter adoptions are steadily on the rise.
These encouraging numbers are due to the tireless work of no-kill advocates.  Cat Cuddles is proud to be one of them through our donations and unending support.
How to Reduce Cats in Shelters
It is recommended that cat owners be aware of the various steps that should be taken to prevent their cat from being placed in a potentially dangerous shelter.
A collar should always be worn with the information of its owner. As a side note, collars that are orange typically mean a cat is an indoor cat, and outdoor cats have a clipped ear that represents they belong to an owner and they are spayed or neutered.  These are universal signs in the feline world.
Cats should ALWAYS HAVE A MICROCHIP! It does NOT hurt the cat and might save its life!
It is preferable that cats always be indoors.
Stray and missing cats often end up in these shelters, so utilizing these steps can avoid this altogether.
Spreading the Influence of No-Kill Shelters
The following no-kill shelters are only a glance at the countless shelters and animal rescue organizations that pride themselves in their no-kill standard of operation.
Harmony House for Cats (Chicago, IL)
Faithful Friends Animal Society (Wilmington, DE)
Help Elevate Life for Pets Animal Shelter (Las Vegas, NV)
Animal Rescue New Orleans (New Orleans, LA)
Home Fur Good Animal Rescue (Phoenix, AZ)
Within the United States, there was 14,000 no-kill shelters in 2014.  It can be expected this number has since doubled in the past 5 years.
Help Us, Help Cats.
CatCuddles plans on being here for years to come, all thanks to our fans and readers.  Rest assured that as long as this site is live, we will continue to donate to the success of no-kill shelters across the states.
Please consider following us on all of our social media pages.  We frequently hold fun giveaways for cat lovers to win prizes and pet supplies!  We always value our Cat Cuddles members with exclusive offers.
By just sharing our informational articles, following our social media accounts, and donating to the no-kill shelters in your community, you can help Cat Cuddles help cats all over the country.
Enter Our Monthly Pet Picture and Video Sharing Contest
Each month, our fans and followers get to decide which picture they love the most. The one photo or video with the most LIKES on Facebook or LOVES on Instagram will win $100!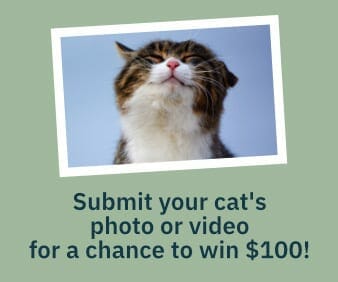 Cat Giveaways for a Chance to Win Amazing Prizes
We will always have at least two cat giveaways going, so our cat lovers have a chance to enter and share to win prizes like a $500 PetSmart Gift Card!
As long as you stay subscribed to our newsletter, you have a chance to win any of our prizes if our third-party software picks you as the giveaway winner! You can unsubscribe anytime.